How Can You Mistreat The One You Love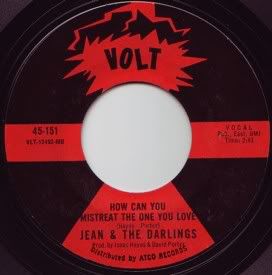 I bought this one about a month ago now (seems just like yesterday), and for some reason it hasn't yet been featured. And "How Can You Mistreat The One You Love" by Jean & the Darlings is a funky soul number that has been under my skin.
Starting off with a bit of horns, guitar and a vibraphone, some tasty funky drumming then kicks in along with the group vocals and it's off. Along with these elements, handclapping is everpresent throughout. A solid base for the vocals to do their thing. The backing vocals come in for the chorus, join in singing the title of the song, drop off to let the lead singer finish the statement, and then respond. Very nice. About half way through, everything drops away except a flute over the drums. Only a quick taste and then back to all the players.
Quality tune. Always nice when a blind purchase pays off.