Hey Rugh Nut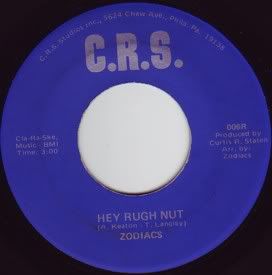 Perhaps the final 45 I'm gonna feature from the Allentown show,
"Hey Rugh Nut"
by the Zodiacs on C.R.S., a Philadelphia label. I've found a few 45s on the C.R.S. the past few years, and this is the best one yet.
As you can hear from the sound clip, "Hey Rugh Nut" is an organ and guitar -led instrumental that just moves. The bass and drums keep it steady on course. Horns come in for an occassional flourish. I really wish I was up on technology so you could hear the rest of the tune. The second half of the tune features vocals encouraging everyone to "do it like you wanna", and the horns come in to back him up. Saxophones and trumpets, and then the drummer adds a stutter step to his beat. It's like the band takes up a notch. What a quality tune.
I was able to piece together a bit of the C.R.S. label 45 discography from the 45s I have. Many thanks to Dave Brown for help completing it. The 45s released on this label were:
000001 - George Johnson & Mondells - Just Because You're You /
000002 - Bonnie Blanchard - You're The Only One / Andy Aaron & The Mean Machine - Right On Time
000003 - Bonnie Blanchard - A Real Good Loving Man / Part 2
000004 - George E. Johnson - The Penn Walk / Wake Me Up
000005 - Sherlock Holmes Investigation - Your Game / The Pot's Hot
006 - Zodiacs - Hey Rough Nut / Don't Change On Me
007 - Mitzie Ross - Man Hunt / Guarantee Me The Weekend
008 - Caprells - Every Day People / Which One Will It Be
009 - Midnight Madness - Gut Funky / Feelings
010 - Frankie Allen - Thinking Of You / Strong & Kicking Again
011 - Frankie Allen - Some Time Alone / Part 2
012 - Al "Sax" Berry - When You See What You Want / Part 2
102 - Misty Graham - Love Well Seasoned / Soul Energy
As far as I know, not much has been published on this label. I'll have to see what I can find out. Any information on C.R.S. (or any other Philly label) would be most appreciated.