You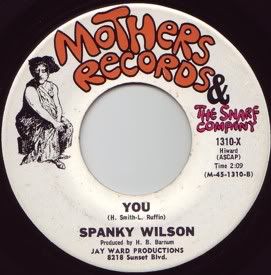 Spanky Wilson's brilliant
"You"
45 showed up on my doorstep today. A record that I have been after for a while (and have bid on and lost a number of times on e-bay), it finally materialized thanks to a second chance offer.
There are a number of things that I like about this song, but the #1, the real reason this tune is a winner, is Spanky's vocals. She really belts it out. The music never strays from it's groove, seeming to wrap around and complement her delivery. The guitar gets an especially nice sound, scratchy yet loose. And those few times where everything drops away except the drums and the vocals, very nice indeed. Plenty of horns, too. Damn this sounds good on vinyl.
I just heard an mp3 of her version of "Sunshine of Your Love", so I may have to seek out the "Doin' It" album. I'm certainly ready to hear more.....