Modern Jive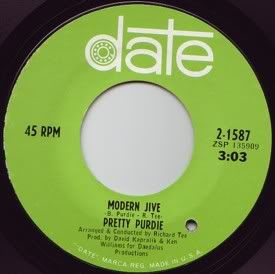 I've been away for a few days, taking a few days off in the lovely city of Montreal. My wife and I had a thoroughly enjoyable time, even though we seemed to run ourselves ragged trying to see as much as possible in 4 days. A highly recommended destination from this record-obsessed blogger (although I didn't buy any records in the city).
One of the records I found (yes, I did make a stop along the way), was this nice cheapie by Mr. Bernard "Pretty" Purdie, "Modern Jive", which I bought with a number of other jazz 45s. The first time I actually heard this tune was on Sugarman Three's "
Pure Cane Sugar
" LP (which I highly, highly recommend and featured Mr. Bernard Purdie himself).
Kicking off with a mellow guitar-led, horn-laden theme, the song erupts into a monster bit of drumming where everything else falls away. Eventually, the mellow theme continues over the big, big drum sound, which presents an interesting sound: relaxing, yet intense. Some real quirky stuff. But I really dig it.