Stick-Shift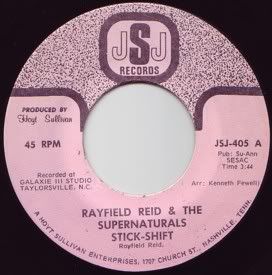 I was listening a CD of 45s that I had bought in the fall and winter and last year, and this tune got me again. I just love the 70's 'show band' sound Rayfield Reid and the Supernaturals have on "Stick-Shift". That full, late funk sound used to introduce a 'new thing', and with some creative instructions for the dance steps: "Step on the clutch", "Put it in gear", etc.
Kicking off with a bit of wah-wah, the group settles into a dense groove accompanied with some fine horns. The guitar has a tidy little wah-wah line, and working with the bass and drums, that groove is kept tight. The horns are sometimes punchy, sometimes adding another layer. The whole package is just fantastic.
This 45 was released on the JSJ label out of Nashville, but Rayfield Reid is from North Carolina. I haven't been able to turn up many other details at this time. But you can hear a bit of this tune
here
.