Blues for Bunny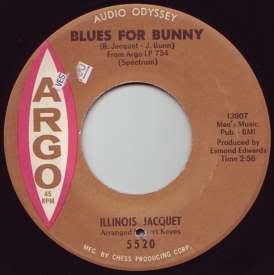 One more jazz 45 that I recently purchased, Illinois Jacquet's "Blues for Bunny" on Argo. A record I really like, and also one that proves that there are still quality 45s out there that can be bought for a dollar.
"Blues for Bunny" is a horn-led mover with a heavy latin feel. Plenty of percussion, great bass lines, piano, a real dense sound. The tempo continues under a nice saxophone solo, and then there is the great conga solo where everything drops away and someone shouts out something indecipherable right before the tune fades out.
If you have any interest in jazz 45s, I recommend seeking this one out.