Akiwawa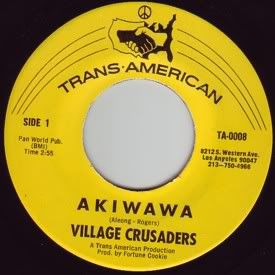 Here's another 'jazz' 45 I found recently, The Village Crusaders' "Akiwawa". OK, it's not really jazz, but that's the box I found it in at the record shop I bought it from. I really like the graphic on the label. It's quite a cool logo of the States.
It's an interesting tune, starting off with an afro-funk fell and then getting into some solid drumming. Hard drumming, too. Something the breaks collectors would enjoy. Then it settles into a real nice, almost laid back, flute-led, organ-filled groove. The flute gives way to a saxophone for a bit, and then the group takes it up a notch & the organ gets the lead. The tasty drum break returns, and then the flute, saxophone and the organ come in over the groove to take it on home. A vibraphone evens much a small appearance.
It's a real quirky one, that's for sure. And actually one that didn't do much for me on the first spin. It has certainly grown on me, though. And it is sounding more jazz-oriented on each rotation.