Just Say When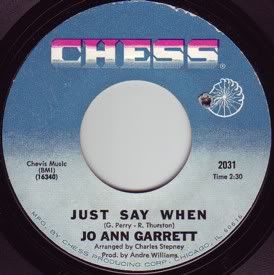 One more from the ladies tonight, a great soul 45 that won't cost you more than a tenner, Jo Ann Garrett's "Just Say When" on Chess. The drum and bass are up in the mix, and throw down a bit of a groove. There are strings all over the song, seeming to ebb and flo as Jo Ann's delivery does. And speaking of Jo Ann, her voice is strong and steady, taking full control of the tune. The vibraphone that is occassionally underneath is a nice touch, along with the bit of jangly guitar (that is pretty much drowned out by the tambourine).
Really nice. You can hear the entire song at
soulclub
. You'll have to scroll down until you find Jo Ann's name in the right column.