Too Hot To Hold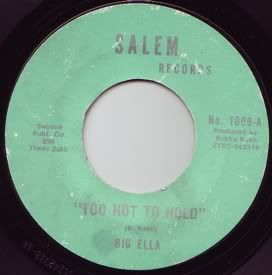 OK, this is my tune right now, Big Ella' "Too Hot To Hold" on Salem. Start to finish it just knocks me out, and it is certainly the best 45 I've stumbled across recently. The label looks a bit beat up in the scan above, but the record (thankfully) plays great.
After the misleading, bluesy guitar line that starts this song off, everything is full throttle. The horns come right in with the drums (and then drop away for a few seconds - just listen to that drumming), and they warm it up for Ella. She comes in and keeps up the pace, her throaty vocal putting it all out there, as she says "no brags, just facts". Check those guitar lines behind her vocals, too. Nice. Man, she really belts it out.
Enough talk. You gotta have a listen to some of this - check it out
here
.