Money's Gettin' Cheaper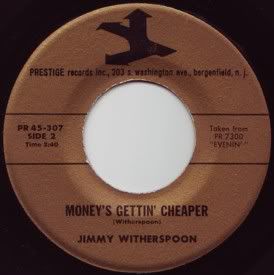 I've been wanting to listen to something different lately, so I have been turning to some of the blues 45s I have, as well as some of the latin 45s. Tonight, one of those blues 45s, Jimmy Witherspoon's "Money's Gettin' Cheaper", a 1963 release on Prestige. OK, while not a straight blues tune, "Money's Gettin' Cheaper" has a nice beat and features plenty of organ. There's also a tasty saxophone solo in the middle. It's amazing what the organ and saxophone adds - without them this tune is a stripped down, small combo tune. Jimmy has some great lines lamenting how far his money is going, culminating in the following:
I can't afford to live, I guess I'll have to try,
Undertakers got a union and it costs to much to die.
This 45 was one of a host of great Prestige tunes on the 1st CD in the
Mod Jazz
series released by Kent. The first CD of the series is especially recommended.