Sweeter Than The Other Side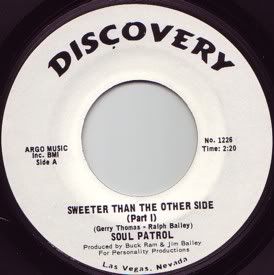 Unfortunately, I've somehow managed to lose everything I had written. Apologies if something doesn't make sense. I'm quite tired.
Tonight, I'm spinning some records that I haven't played in a while. Tonight's selection is a record from Las Vegas, Soul Patrol's "Sweeter Than The Other Side" on Discovery. It's always nice to find a quality tune in your box when you have no money to spend on new records.
"Sweeter Than The Other Side" is a stripped-down organ-led mover, just organ over bass, guitar, and drums. An occassional bit of tambourine as well. And the group just plays at a frantic pace, changing the tempo to take a breath, and then diving right back in. Everything is loose, yet the group stays together. Quality.
Have a listen to some of this 45
here
.