Two By Two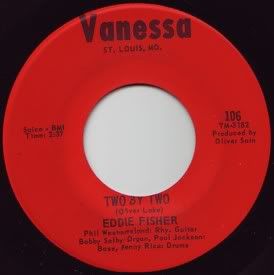 "Two By Two" is an excellent jazz funk 45 by the guitarist Eddie Fisher, who did a much sought after LP on Chess (and I believe both of the tunes on this 45 were on the LP, but not sure if they used the same recordings - anyone?). This is a local release on Oliver Sain's Vanessa label.
The guitar playing is straight-forward, staying right on the groove. Nothing over the top. The organ gets some time after the guitar takes a break, and he keeps it going nicely. There are some interesting sounds in the background, particualrly something very metallic, but certainly not the cymbals. The organs hits some high notes, too, higher than I've ever heard. But it all adds up to a tough jazz mover, the type of stuff I really like.
You can hear some of this tune
here
thanks to www.funk45.com.