The Burg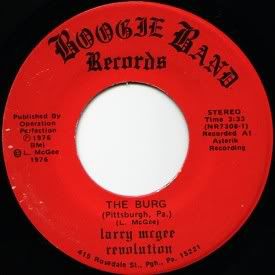 "The Burg". A tune dedicated to the city of Pittsburgh. I imagine if you are unfamiliar with this record, you could be asking what's it doing on a site about soul 45s. I mean, how good can a tune be that goes on for 3 minutes about a city? Let me just say, surprisingly good. In fact, very, very good. Larry McGee's "The Burg" just knocked me down from the start, and, even though it's outside the time frame and sound I normally collect, I had to find a copy. And it sounds better than ever on these lovely, unseasonably warm spring days - it's definitely a summer tune.
What first got me about "The Burg" was the catchy, meaty bassline and those synths. They are complete opposites, the bass grounding the tune, and the synths moving just above your head, but do they ever work together. Plus I dig those falsetto backing vocals (what are they singing - "say boop boop"?), and that bit of electric piano getting a short solo. But the killer is when the backing vocals spell out "P-I-T-T-S" and the Larry comes in with "B-U-R-G-H"......gets me every time......
As you can see, I have a hard time being objective with this record. If you're not up for chasing the original, this tune was reissued on
Licorice Soul
as a 12" last year, although there no longer seems to be copies left. Should be copies floating around somewhere, though (start with e-bay or gemm). If you visit Licorice Soul, check the short interview with Larry McGee on the site, as well the other titles they've released.