I Can't Wait Until I See My Baby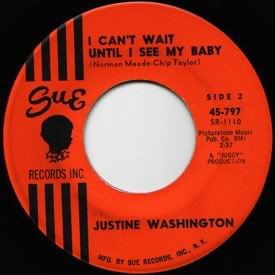 Here's a recent 45 acquisition, a lovely record by Justine "Baby" Washinston from 1963, "I Can't Wait Until I See My Baby's Face" on the infamous Sue label. Probably not the sort of fare I usually feature on the site, and certainly earlier than I normally collect, but what can you do when a song just grabs you?
A mid-tempo, almost mellow, soul tune, it opens with a flute and some cooing vocals before Justine comes in and becomes the main focus. And her delivery is what this song is all about. So nice. The song is built on a simple beat (with the drums well up in the mix) accompanied with guitar and bass and that flute that seems to appear again and again. Some horns are present now and again for mood, but never venture out into the spotlight. The same could be said for the backing vocals.
What a great tune. You can hear this tune over at the great
soulclub
site. Scroll down to the bottom of the page to get to the soundclip.