Cowboys to Girls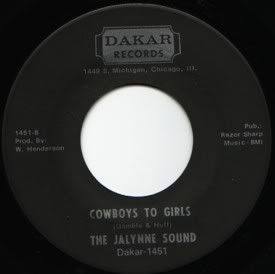 Here's a 45 I bought recently, The Jalynne Sound "Anything You Wanna Do" b/w "Cowboys to Girls", the Gamble & Huff penned tune. Both sides are instrumentals for the most part, this side being that one that captivated me at the record show.
Their version of "Cowboys to Girls" is an instrumental that moves between a smooth, saxophone-led, laid back groove, some horns soaring in over the drums and congas that make up the bottom end, and an uptempo boogaloo rhythm with the sax in r'n'b mode, some tight guitar lines, and even some fake crowd noises come in. Both grooves are solid, although the crowd noises could have been left off. Then again, the more I listen to this tune, the less it bothers me. Perhaps it is serving to separate the two parts.....or else I am just not minding it.
Now who were the Jalynne Sound? Anyone?