Things Could Be Better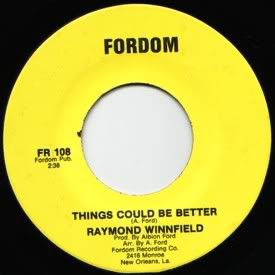 A while back - it may have even been about a year go - I featured a 45 on the Fordom label outta New Orleans, Ernie and The Top Notes' "Dap Walk". Well, this 45 shares the music with the song on the flip of that record, "Things Are Better", with the addition of Raymond Winnfield on vocals.
I have seen "Things Could Be Better" described as 'suicide funk', and it does seem to have a dark cloud over it, with Raymond's vocals being straight from the blues. His vocals are of a man who's barely keeping afloat, and he has several blood-curdling yells that jump outta the grooves. Even though the music is courtesy of the Top Notes, none of the feel-good qualities present in "Dap Walk" are here. The tempo is slower, the guitar and bass have none of the bounce, and those drums that would have you on your feet can't break the specter that hangs over the tune.......a bummer, but damn good.