Third Flight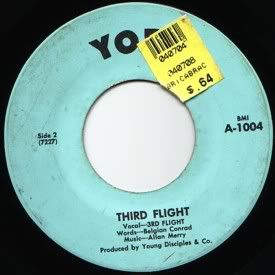 Here's a hell of a tune outta St. Louis on the Yodi label, 3rd Flight's "Third Flight". And I'm not quite sure I can do a good job explaining it. The song is a first person account of drug addiction backed with a tough psych-funk groove. Musically, it's plenty of fuzz guitar, horns that ebb and flow, bongoes, and it's all very loose, which lends itself to the subject matter. Also, there is a call and response with a falsetto voice throughout - seemingly another voice of the protagonist who warns of the dangers throughout. I find this particularly inventive.
The song opens "I don't believe that I can get no higher / I have reached the third flight / I've been taking everything I could, girl / Just trying to get myself right" and from that the tale of experimentation, progression to cocaine, and wanting to kick - knowing that kicking is a must - unfolds. "Third Flight" seems to mean both the highest highs as well as referring to the third time that he used, when he felt he was hooked.
Can't find anything about this 45 and 3rd Flight on the internet - besides the Young Disciples mentioned on the label, no clues. Perhaps 3rd Flight was a vocal group backed by the Young Disciples?
EDIT 7/17: Over the weekend I received the latest issue of Shades of Soul, which featured an article on this label. One thing that hit before I even started reading the article was that YODI = Young Discples......guess I overlooked the obvious. Anyway, I recommend Shades of Soul if reading about soul artists and records interests you. Ordering information is located
here
.