Chocolate Sugar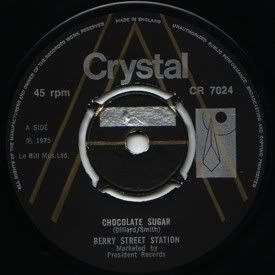 Seems like it's been a while since I featured an instrumental, and that probably has something to do with the fact that I'm listening to more soul than funk this summer. Anyway, I've been keeping my eyes open for funk sides as well (I can't quit completely no matter what other music engrosses me), and this one came off the 'bay for a nice price....and appears unplayed to boot. It's a UK pressing, but I believe the US label that 'Chocolate Sugar' got a release on was LeCam Records out of Texas. The group name on that release was Six Feet Under, but it seems to be the same recording.
'Chocolate Sugar' is a tempestuous 100 mph organ groover. The organ nearly drowns out the rhythm section, but the drummer manages to hold his own while the guitarist lives in the slight pauses. About 3/4 the way through the organ recedes and the drummer - backed by the horns - gets some, and then the tune closes back on itself, the organ backing off a bit, and they make their exit........
Have a listen to this tune over at
funk45.com
.