Who's Gonna Take The Weight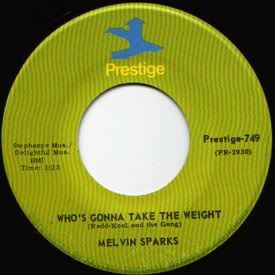 It's always nice when a new Prestige 45 shows up on my doorstep. As I've stated before, this is perhaps the only label I actually collect. I say perhaps because my desire to own all the Prestige 45s has waned, and, outside of a handful of LPs, I'm not going to chase the LP catalog. That being said, it is still my favorite label, and when one of the Prestige wants is crossed off the list, it's a good day.
'Who's Gonna Take The Weight' is a cover of the classic Kool and the Gang tune off Sparks' "Spark Plug" LP, and the session featured Virgil Jones, Leon Spencer Jr., Grover Washington Jr., and Idris Muhammad. What really grabs me about this tune is how tight it is, uptempo yet restrained, everything spot on. Gone is all of the loosemess of the original.
After a jangly guitar intro, everyone comes in and a solid groove is laid down. The infamous horn line of the original is so lean, stripped down, but still packs a punch. The guitar gets a bit of the solo with the organ supporting, and there is a tasty bit of drumming accompanied with horns on either side of Melvin's solo. Love the sound of the snare. It all builds into a crescendo of horns and guitar, and then it slowly fades out.......