Baby, Baby Don't Cry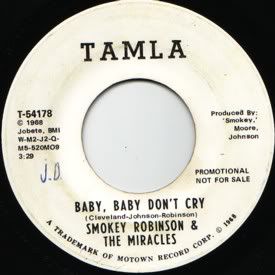 One of the things I have been trying to do this summer is buy more Motown 45s. The hunt for obscure titles has often made me pass over 45s that seem more common, and I have come to the conclusion that I am doing myself a disservice. Especially when a 45 of this quality is out there. I am sure the name of this group is familiar to most folks, but if the title is not (which is what not for me, and it charted), I highly recommend you check this 45 out.
It has many elements I seem to favor in soul tunes: falsetto lead, a tempo that stops and starts, vocal harmonies, and a solid groove. And one thing I normally avoid, spoken parts. But it all works. The song ebbs and flows thanks to the strings and the rhythm section, gently moving between the highs and lows. Smokey really steals the show, though, with those vocals. Perhaps I need to listen to more stuff by The Miracles, but his delivery sounds so much better than on the few records of theirs I've heard. And that Motown production just convinces me I've not spent enough energies on this catalog. Any recommendations would be appreciated......