The Proposition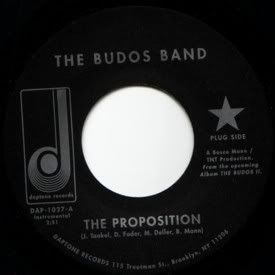 New York's afro-soul group, The Budos Band, has done it again. Their second 45, 'The Proposition' b/w 'Ghost Walk', features a new tune from their forthcoming album on the top side, and an organ burner from their first album on the B-side. A very nice pairing indeed.
'The Proposition' is a mid-tempo, horn-led tune. The trumpet and the saxophone interplay and take turns leading the tune. And when the horns come together for the main theme, they seem to originate from the ground itself. Behind everything is that spot-on poly-rhythmic groove. "Ghost Walk' opens with some tough drums, and then lets the percussion support a moody organ and a succinct guitar line. Some nice percussive breakdowns propel the song. The tune has a somber, dirge-like quality, and it really seems to be jumping out at me right now. I'm going to have to go back and listen to their album again. It seems that since this tune doesn't have the drums and horns, there's almost an 'other-worldly' feel to it.....hence the title?
Anyway, great two-sider here. Highly recommended record, and I'm looking forward to the new album. More information available here at
Daptone
.