Listen To Your Mama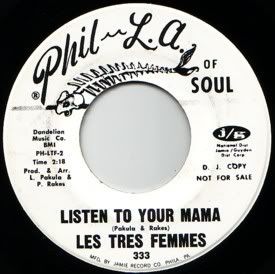 Well, it's been much longer than I anticpated - over 2 months - since I've featured a new 45 on the blog, and I apologize. My wife had our first child on Thanksgiving day, a beautiful little girl named Ella Victoria. She recently started to go to bed before midnight, so life seems to have settled down a bit. Hopefully enough that I can share some records on a more consistent basis.
My record purchasing habits have slowed down and seemingly mellowed a bit. I've been buying less funk and more mid-tempo soulful stuff. And I'm really digging modern soul as of late, too. Expect to see some of this stuff in upcoming features.
I thought I would focus on a 45 with a parenting bent, Les Tres Femmes' "Listen To Your Mama", that has a Philadelphia connection thanks to the label. And it looks lovely on the white demo (I've never been a promo 45 collector, but the white demo has suddenly started to look especially attractive). Opening with a strong drumbeat, the girls proceed to tell their cautionary tale about not listening to the sage advice of their mother. 'Listen To Your Mama' is built on a stripped-down groove - drums, bass, and guitar - with an organ bubbling underneath, sometimes overflowing. Horns come in for the chorus, completing the 1-2 punch. I dig how loose the tune is. Sing on girls, sing on.