Ain't Got The Love Of One Girl (On My Mind)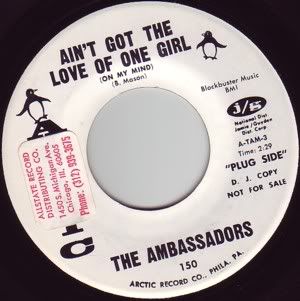 Even though I don't plan on it, I generally focus on 45s I've recently bought since they are in heavy rotation. Well, sometimes, a song doesn't hit me for a while, like tonight's record, The Ambassadors' "I Ain't Got The Love Of One Girl (On My Mind)". I purchased this record last year for the flipside, "Music (Makes You Wanna Dance)", a slightly funky soul number that, even with repeated spins, never managed to really capture me. It seems this summer I am as much into the soulful sides as the funk sides, and when I finally got wise and flipped this 45 over, this side just knocked me down.
Featuring stunning vocal harmonies, top notch musicianship and production, and spot on vocal delivery, this tune just oozes soul. There are so many cool elements of this tune: the xylophone, the tidy guitar lines (a similar economy was in Barbara Mason's "You Better Stop It"), and the strings that complement the lead vocals. And check the vocal harmonies. I really can't recall such harmonies.
This is really my soul tune at the moment. It's one of those songs that manages to take you away from your own little world for three minutes. And that's the best thing a song could do.