Blackrock "Yeah, Yeah"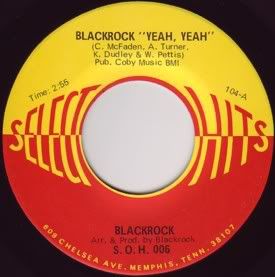 Where funk, psych and garage meet, you will find Blackrock's "Blackrock 'Yeah, Yeah'" on Selectohits. Actually, in a record seller's garage 45s is where I found this record, even though there were a number of soul and funk 45s. Guess this sounded a bit too rock for his funk box.
This record is heavily guitar based, and if you've read my posts before you know I like guitar really only as an accompaniment, not as the focus, of a song. But, here, it really adds a nice element, although the last 1/3 of the tune is devoted to soloing, which gets a bit too much for me. The intro has a great texture (almost a shimmering sound) thanks to the guitar and (what is the other instrument, electric piano?), and then the drumming kicks in and it's on. One of the best intro's I've heard. Have a listen to it
here
.