Forty First Street Breakdowne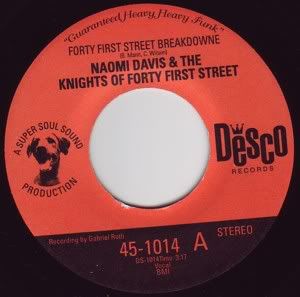 I first heard this 45 on a CD without titles, but the name of the song is so present in the chorus that I quickly figured out what it was....Naomi Davis & The Knights of Forty First Street "Forty First Street Breakdowne" on Desco. This is a tough funk 45 from the mid-90s (yes, the mid-90s for those of you unfamiliar with the Desco label), one that instantly went on the wants list.
The record is just slamming start to finish. Naomi's voice is somewhat raw, the drums are gritty, the horn lines are succint and right on. At times, the organ swirls or the tambourine shimmies right underneath it all. Naomi continually exhorts the band to play harder and louder, the best being right before the amazing drum break, "Gimme some drums!", and the drummer delivers. I especially like how he hangs onto the high hat before bruising the snare. Phenomenal.
You can hear a snippet
here
. Even though this was released about ten years ago, it's still a tough one to find. I guess most collectors don't want to let their copy go once they find one.