Who's The King?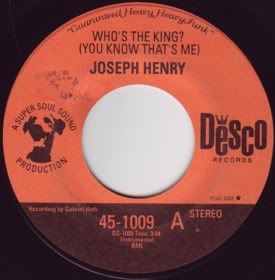 It's funny, the sequence of events when you're a record collector (and I assume the same holds true for collectors of other items). I search (and bid) on this and the Naomi Davis 45 for nearly a year only to find them for a better price at nearly the same time from 2 different sellers. Along with the Naomi Davis record featured 2 days ago and the Sugarmen Three's "Turtle Walk", Joseph Henry's "Who's The King" is one of the best records release by the Desco label. Originally I had planned on having this 45 right after Naomi Davis, but the Marlena Shaw was stuck in my head, so I had to write about it.
"Who's The King" is an infectious, uptempo monster that dares you to keep seated. Whereas Namoi Davis is a raw number with a sixties, this record has party jam written all over it, and the production is a bit less gritty, more of an early 70s sound. A bass-in-your-face, tambourine-ever-shaking, guitar-scratchin', horn-fueled good time. Real nice sound.
Listen to a clip of this tune
here
. You'll be out of your seat as well.