Brother Where Are You?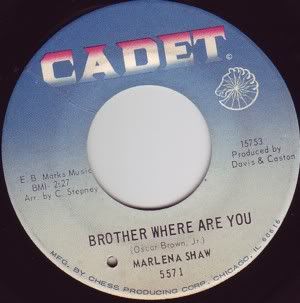 Another recent purchase, Marlena Shaw's fantastic version of Oscar Brown Jr.'s "Brother Where Are You?" on Cadet.
For the most part, a real stripped down sound, the drums and the bass just keeping the pace, a piano, a tambourine, and an acoustic guitar providing the backdrop. The flourishes belong solely to the horns, and they provide a brassy 1-2 punch during the chorus. What really catches me is that acoustic guitar, I believe it's being finger-picked, it's a touch of the blues. What you are really left with is the song, wonderfully sung by Marlena, a bit jazzy, plenty of soul. Especially the chorus where she squeaks through one of the lines. Nice.