Getting Uptown (To Get Down)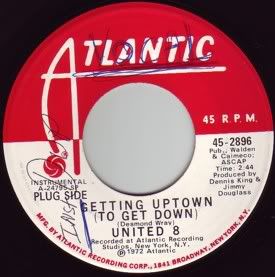 Another Atlantic promo, and another Atlantic winner bought at the Allentown Record Show, United 8 "Getting Uptown (To Get Down)". Whereas last night's 45 was a raw 60's track, this one is straight up 70s. Much more polished, but still funky as hell.
"Getting Uptown" delivers punchy horns, some lovely jangly guitar, and a bit of organ over a solid rhythm section. There's a real nice bit early on where the guitar and the horns do a bit of call and response. About two-thirds the way through, they thrown in a saxophone solo over the top, and then return to the groove that has propelled the tune. Nothing outrageous, just a tune that is there to help you 'get down'.
Really nice tune. Check those horns and that guitar
here
.