Big Time Operator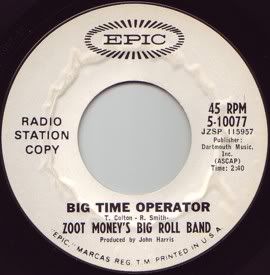 Last promo for the week, "Big Time Operator" by Zoot Money's Big Roll Band on Epic. A UK group, Zoot Money and his group were responsible for some quality releases, and I'm very happy to have a copy of this tune now in the collection. I really dig the UK 60's sound, from r'n'b to freakbeat to (a bit) of psych, and I especially dig US pressings.
The tune itself has a big 4/4 beat, a chorus of punchy horns, and it's just an uptempo, feel-good dancer. I pulled it out of a dealer's soul box, and I never thought of it that way, but it really is a blue-eyed stomper. That's probably the best description anyone could ever come up with. The lyrics are pretty cheeky, too, all the job titles rhyming off of the word 'operator'.
The b-side, "Zoot's Sermon", is something I never heard before, and it's a nice piano and organ led groover. You get to hear the guitar and more percussive elements here. Perfect for a smokey club early in the evening.