Lucretia the Cat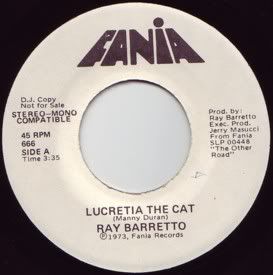 As stated last night, I've been broke lately and, consequently, rummaging through the boxes lately, playing things that somehow fell off my radar in the hunt for other records. Tonight, one from Ray Barretto on the legendary Fania label, "Lucretia the Cat", a 45 that's working quite well on a Friday night.
An especially percussive-heavy tune, "Lucretia the Cat" features three things that get me: the flute over the top of the tune, the horns, and the breakdown late in the tune. The tune is actually sounds quite slick, with it's quality production and the tightness of the group. It is showcased in a relaxed mid-tempo groove complemented by intense crescendos throughout.
A great record that I don't hear mentioned too often when people are discussing Ray Barretto's 45 output. Unfortunately, I'm not able to find any soundfiles on the web.