Never Learned To Dance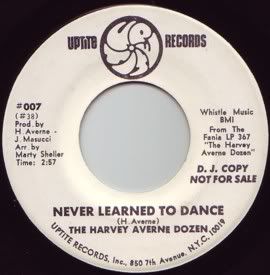 Here's one I bought a few years back for the flip side, "Dynamite", but a few months back I received a CD with "Never Learned To Dance" on it, and I was immediately hooked. I'm not sure how I missed it when I purchased the 45. This tune is getting spins on the northern soul scene from what I've been told.
"Never Learned to Dance" is an uptempo soul tune with latin overtones. Plenty of percussion, plenty of horns, a nice and dense sound. I especially like how you can here the piano player pounding those keys. This tune just starts off full throttle and never lets up. You can check it out on
soulclub
. Scroll down to the page until you see Harvey Averne Dozen in the left column, then click on the song title.