How Long Shall I Wait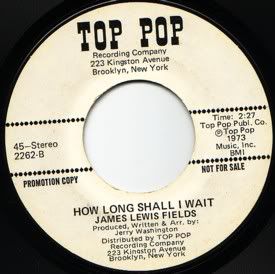 Here's a great 45 out of New York, James Lewis Fields' "How Long Shall I Wait" on Top Pop. One I've been after for a while now. This tune was produced, written and arranged by Jerry Washington - wonder if that was the same Jerry Washington who released some great 45s on Excello?
Anyway, "How Long Shall I Wait" is an uptempo funker with propulsive drumming, punchy horns, and some fantastic scratchy guitar over the cymbals. Nothing fancy going on, just a straight-ahead funk number with some soulful vocals. Very nice vocals. Check the drummer, too, as he puts more weight on some hits to great effect.
Check the sound clip
here
courtesy of funk45.com