Black Boy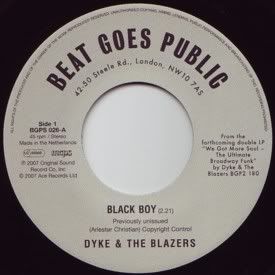 I'd been meaning to feature this 45, but things seem to be taking longer to accomplish these days. Anyway, Beat Goes Public (BGP) recently released a double LP by Dyke & The Blazers, and one of the tunes featured was this unreleased killer, "Black Boy". Before I talk about the song itself, I wanna take my hat off to folks who reissue quality music, and are on the look out for unreleased gems that may be lying in the vaults. Your hard work is much appreciated.
OK, now on to "Black Boy". It's a very topical tune, opening with "I'm the black boy, from the ghetto" over a spanking rhythm. From there he states "I know what it means / to have to walk in through the back door". Nothing is held back, either lyrically or musically. The music is tight, the drums are right on, the bass is in your face, the horns are there when they're needed. Ace playing from the guitarist as well. The vocals are a bit raw, too, which really adds to the tune.
The flip side features an alternate take of the utterly fantastic "Let A Woman Be A Woman, Let A Man Be A Man". Highly recommended record.