Midnight Boogaloo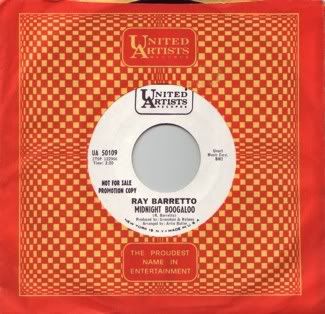 I figured I'd keep the promo 45 in a company sleeve look and feature a 45 by the ever-impressive Ray Barretto. This is the second 45 I have found by Mr. Baretto on the UA label, and it is very much the opposite of "Do You Dig It?", which is a manic slice of boogaloo. On the strength of these two 45s, I guess I should hunt down the LP, but it's alot harder to sneak an LP into the house than a 45......
'Midnight Boogaloo" is a restrained and jazzy affair, building and changing tempos throughout. The piano player opens the scene, and, after some interplay with the guitar and bass, the drums and horns come in. That snare is a-snapping, and it sounds fantastic. The horns help the tune to ebb and flow, always returning everything to that opening piano line. A solid tune that would certainly let the dancers breath while the band continues to smoke.
I would be curious to hear of any other Barretto 45s on UA, and if anyone has seen any stock copies. I believe he only had one LP on the label, so I can't imagine there is many more......