Barbara Mason "You Better Stop It" Arctic 154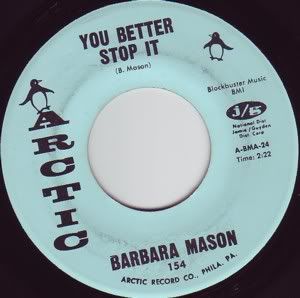 Today is my 35th birthday. What did I do? I attended a record show with some birthday money that I received as a gift. This week I will feature 45s I found today (a couple I managed to knock off the wants list) plus a few that my wife and mother gave me as gifts. Yes, I had them fund a few purchases and give them to me as gifts.....

Today, a 45 that I have listened to hundreds and hundreds of times since a friend put it on a CD for me last year: Barbara Mason's "You Better Stop It". Perhaps the best soul record I have ever heard, certainly the best soul 45 I own. I found this a few weeks ago for a fantastic price, so I bought as a gift for myself.

Words could not describe how phenomenal this 45 is: her vocals are amazing, the musicianship is outstanding, and I could go on about all the intricacies of this song, but then this would be extremely long. Instead, I wanted to link to a site where this could be heard, but I could not find a site. If I find one, I will update this posting later. Needless to say, if you see this 45 or a CD that features this song, buy on sight.