The X-Citers Unlimited "Soul To Billie Joe" ABC 11029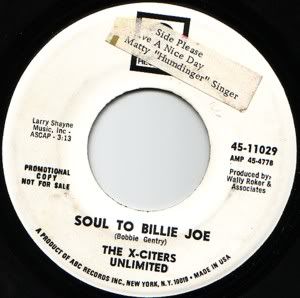 Another 45 I've been wanting to bump into (meaning I was waiting until I could find it for a nice price to buy it), and last Sunday was the day. No information on this one when googling the internet, so I don't have any background on the group. I have seen a few sales lists state that this is a 1968 release, but nothing to confirm that.

'Soul to Billie Joe' is an earlier sounding funk track, what I would call a soul instrumental. There's not really a groove you would expect with most funk 45s, more of a consistent stutter step rhythm. It's actually somewhat similar to 'Boogaloo Mardi Grass', although not as primitive as that record. The horns are fantastic, especially when they all come together. The sax, guitar, and trumpet get a solo, which is what gives the feel of a jazz record. But that is undone by the glorious roughness of it all. Jazzy + rough around the edges = a good thing.

The B-side is a mostly instrumental cover of 'Hang On Sloopy'. Plenty of - again great - horns grace this mid-tempo, hand-clapping, bass-heavy r'n'b funker. The slowing of the tempo and the bass up in the mix has really made this a nice and heavy instrumental. The horns actually give it a bit of a latin feel.

This 45 gets better and better with repeated listenings. If I knew it was as good as this, I would have chased it. A highly recommended record.