Idris Muhammad "Super Bad / Express Yourself" Prestige 743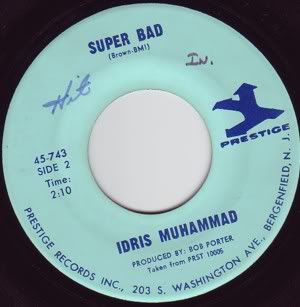 Prestige is probably my favorite record label. Many amazing 45s were released on this label, and some of them really fit my mantra of "I like my jazz funky, and my funk jazzy". This 45 by Idris Muhammad is a pair of covers, James Brown's "Super Bad" and Charles Wright and the Watts 103rd Street Rhythm Band's "Express Yourself". As you can see from the label scan above, "Super Bad" is only 2 minutes long, nowhere near the multi-part release like the original. It's stripped down and to the point: here's the groove, get down. The standout here is that crisp drumming in the right channel paired with the conga playing in the left channel. Percussion overload when I have the headphones on. The horns are great, too, so soulful. Also have to mention how the guitar player stays in his groove perfectly.

"Express Yourself " is a laid back affair, and, at first, it was overshadowed by "Super Bad". But this side is now becoming my favorite of the two. Perhaps it is the tambourine, perhaps the organ playing, perhaps it is the drum rolls when the horns and drums are doing a bit of call and response. These additions to the elements featured on the flipside make it a real winner. I have to mention that the horns are, again, spot on. Nice.

Both sides of this 45 are also featured on the "...Ain't It Funky Now" CD released by BGP. This CD features some fantastic Prestige sides, and I can't recommend it highly enough.