Gonna Get Your Love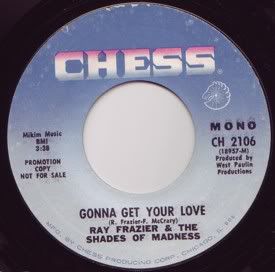 I recently bought a new needle, and so I've been celebrating by going through one of the funk boxes and throwing on random 45s. Tonight I had "Gonna Get Your Love" by Ray Frazier and the Shades of Madness (how great is that band name?) back on the turntable. On the ever-surprising Chess label, it's a stone cold killer, one that I played again and again and again when I first found it. And it still sounds as good as when I first got my hands on it.
What gets me is the soulfulness of Ray's voice. He's not in any hurry, he's just telling his story, mostly calm and measured. And the band stays right there with him, plenty of bass, strong beat, nice guitar lines, and these unbelievable horns. There are 2 horn breaks that just kill it. And after the second, the band gets a moment to break free before they fall in for the balance of the tune.
What really gets me about the band is you know they could just throw it down if necessary. You can hear the intensity in their playing. But they tone it down and give what the song requires.
This is the easier of the two funk 45s by Ray Frazier and the Shades of Madness. The other, "I Who Have Nothing", on Stanson runs about $1000. And it's just a monster, too. You can listen to a snippet of "Gonna Get Your Love"
here
. And listen to "I Who Have Nothing"
here
.