Top Of The Stairs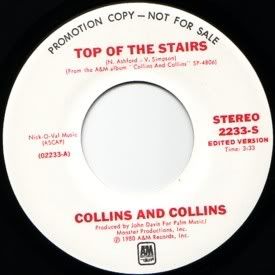 Another hiatus. Has it really been since February the 12th? Time flies when a young one enters your life. It seems like the baby just came home from the hospital, and now she has started day care and my wife has returned to work. Things are ever-changing at such an amazing rate...and it seems it will never slow down from here.
Anyway, I am back with a wonderful piece of modern soul, Collins And Collins' "Top Of The Stairs" on A&M. Released in 1980, this 45 is a cover of the Ashford & Simpson original, which I must admit I have not heard. Anyway, as I mentioned a while back, I have really become a fan of the modern soul sound, often a more polished and commercial sound.
"Top Of The Stairs" features a male and female vocals singing to each other over a layered, mid-tempo beat that is ratcheted for the chorus. And when the chorus kicks in, the tempo picks up, the strings kick in, and the song wraps you up. It's as if the verses are gentle winds and the chorus is a tornado, as I am always swept away when this tune comes on. I can imagine hearing this in a club is an experience.
Highly recommended record. It has been comped a number of times, so it is easily available. Or if you prefer vinyl, I believe the LP is cheaper than the 45. Either way, check this tune out.