Dap Walk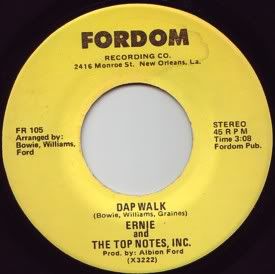 Tonight,
Ernie and the Top Notes, Inc.
'
Dap Walk
/
Things Are Better
' 45 on Fordom Records out of New Orleans, Louisiana. Certainly one of the best funk 45s ever released. Thanks to the
Soulstrut
heatrock auctions for Hurrican Katrina relief, I threw down more cash for this 45 than any record I had previously bought. It is worth every penny.
If ever there was a record that doesn't need comment, this is it. Immediate and powerful, 'Dap Walk' speaks for itself. Simply amazing.
There is an interview with
Ernie Williams
on the Stones Throw website. Quite informative, especially the bit about the creaking from his wah-wah pedal. If you like this tune, you can purchase the song on their 'Funky 16 Corners' compilation, which is a solid collection of funk tracks, and is highly recommended by yours truly.