Stone Fox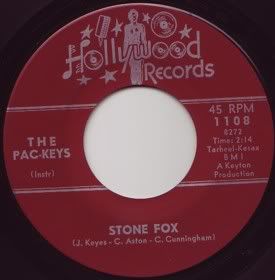 Here's another recent find, The Pac-Keys' "Stone Fox" on Hollywood Records out of Texas, I believe. This is actually the second copy of this 45 I've bought. The first one had some noise, and, unfortunately, so does this copy. Seems to be a noisy pressing.
"Stone Fox" is a tough proto-funker, with an intro heavy on the bass and drums. Then some guitar and piano join in before giving over to an organ and a saxophone. But everpresent is that bass and drums featured at the into, which they return to again and again to re-establish the groove. That bass is especially great, it almost sounds like it's being hit it's so percussive. The saxophone gets the first solo, but then, separately, the guitar and organ follows. Nice and tidy.
You can hear a portion of this tune
here
.