Give A Man A Break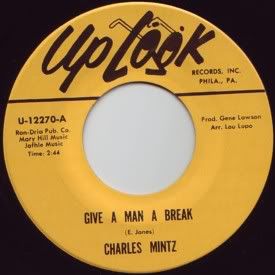 Tonight, another Philadelphia 45, Charles Mintz's "Give A Man A Break" on Uplook Records. Another one of the local 45s I've actually found in Philly city limits (it's actually not that common). Oddly enough, I had a choice of buying the local issue or the Abbott release (and later issue)....of course I had to buy the local pressing.
Super uptempo funker here, unrelentless from the very start. For the most part, a straightforward guitar, bass, drums affair, with the horns coming in to add some punch to the chorus. Just Charles and the band going for broke.
Have a partial listen
here
.