Bring Back Peace to the World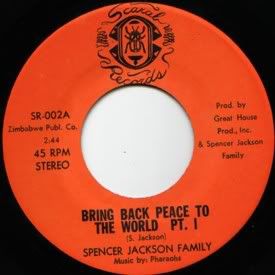 Here's an amazing 45 I bought a few months back, The Spencer Jackson Family's "Bring Back Peace to the World" on Scarab Records. Supporting the Spencer Jackson Family on this record are The Pharoahs, whose 45 on the same label I featured last year. Unfortunately, I have not been able to find any information on The Spencer Jackson Family via the internet (you would think most records would have some information in a corner of the web somewhere....). That being said, I am not sure how I am going to be able to describe the intensity of this performance.....
Opening with mellow, gospel-like* vocal harmonies, the voices give way to a female voice that pierces the tune, and a chunky groove comes in. From here on, layers of vocals are created by several groups each singing their own lines, until they reach the chorus when they come back together. I originally thought the vocals were split into male and female groups, but there are more than two groups of vocals present. It is a dense and powerful web they are weaving. The music behind the singing is spot on, and aside from the when the groove is initially laid down, it stays in the background, supporting the vocal group. Great, great record. I love the deep male vocals, "If I had my way, I would stop the hate".
*I gotta be honest and say my exposure to gospel is very limited. It's just what comes to mind when I hear the opening lines.