Too Hot To Hold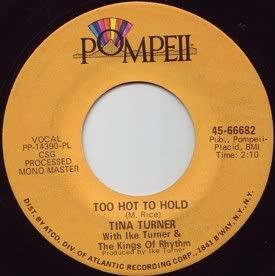 Let me start off by saying that this is my favorite 45 right now. Pulled from a $2 box at the WFMU record show last November, it wasn't until after the new year that I had a chance to clean it and give it a proper listen. And since then, I've got it burned to a CD and it's on constant rotation on the way to and home from work (generally the only time I have to actually listen to music). Anyway, it's a stormer - as Tina sings in the very tune - it "sets my little soul on fire".
Tina's voice is at the top of it's register from the very start, propelled by steady drumming and a bass that's well up in the mix. Then there's that scratchy bit of guitar that wonderfully contrasts with the bass, and the organ that bubbles underneath. For the choruses, the horns come in, build, and then the band crashes down on them. And let's not forget the backing vocals, which are as strong as Tina's.
The second verse is my favorite, where Tina pulls it back just slightly and sings:
I thought I knew everything a girl's supposed to know
About how to keep cool when the heat is on
You taught something I never learned
You made me hot enough baby, hot enough to burn
And then the group takes it right back up. And they sound damn good throughout. This is one smoking slice of soul right here.
I believe this is the 3rd 45 titles "Too Hot To Hold" I've featured. Anyone recommend any others?