Break It Loose (Part 1)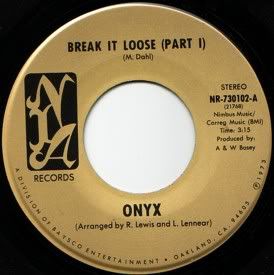 Tonight, it is my pleasure to feature a fantastic 70's funk 45 that my wife gave me for Christmas, Onyx's "Break It Loose". Onyx hailed from the Bay Area and released this 45 on their own Nia label (in fact this 45 has been reissued on the
"Bay Area Funk"
compilation released on Ubiquity Records). It is important to note that the rhythm on this 45 is provided by Equal Rights.
"Break It Loose" kicks off with the vocalists holding a high note, and then they release it to the let the electric piano, strings, wah-wah guitar, bass and drums begin to weave the dense sound that will support the group through the rest of the tune. And what a glorious sound, especially when the vocalists return to create their own harmonies, a group of falsetto vocals alternating between 'Break It Loose' and 'Let It Go' among other vocals that circulate throughout. I can only imagine what this sounds like in a club, the tune seems to wrap around the room, taking up every unoccupied centimeter. Then there's a breakdown about 2 minutes in that features the vocals over the electric piano which is quite nice.
Simply put, this is an amazing record. It's a shame there's not more recordings by Onyx and Equal Rights; they're a hell of a combination.